The International Grid Trust Federation
News
The latest IGTF trust anchor distribution is always available from the PMA web sites: EUGridPMA and APGridPMA. Please refer to the README and CHANGES files for information about the distribution and its use.
The international community is deploying large scale distributed computing grids on a production scale, across organisations, across countries, and across continents, for the advancement of science and engineering. In shaping this common grid infrastructure, many of these grids are relying on common practices, policies and procedures to reliably identify grid subscribers and resources.
The International Grid Trust Federation (IGTF) is a body to establish common policies and guidelines between its Policy Management Authorities (PMAs) members and to ensure compliance to this Federation Document amongst the participating PMAs. The IGTF does not provide identity assertions but instead ensures that within the scope of the IGTF charter the assertions issued by accredited authorities of any of its member PMAs meet or exceed an authentication profile relevant to the accredited authority.
Functions and the Trust Anchor Distribution
The IGTF maintains a list of trust anchors, root certificates and related meta-information for all the accredited authorities, i.e., those that meet or exceed the criteria mentioned in the Authentication Profiles. The Distribution contains Certificate Revocation List (CRL) locations, contact information, and signing policies.
Constituency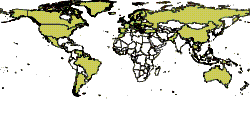 The IGTF constituency consists of our three member PMAs: the APGridPMA covering Asia and the Pacific, the EUGridPMA covering Europe, the Middle East and Africa, and The Americas Grid PMA covering Latin America, the Carribean and North America. All registered members in each regional PMA are also members of the IGTF. These include identity providers, CAs, and their major Relying Parties, such as the international Grid Deployment and Infrastructure projects.
Each member PMA holds regular meetings and manages a (closed) email list for discussion. The open IGTF meetings are held at the Open Grid Forum's regular meetings. You can get in contact with the IGTF through your Regional PMA.